Bio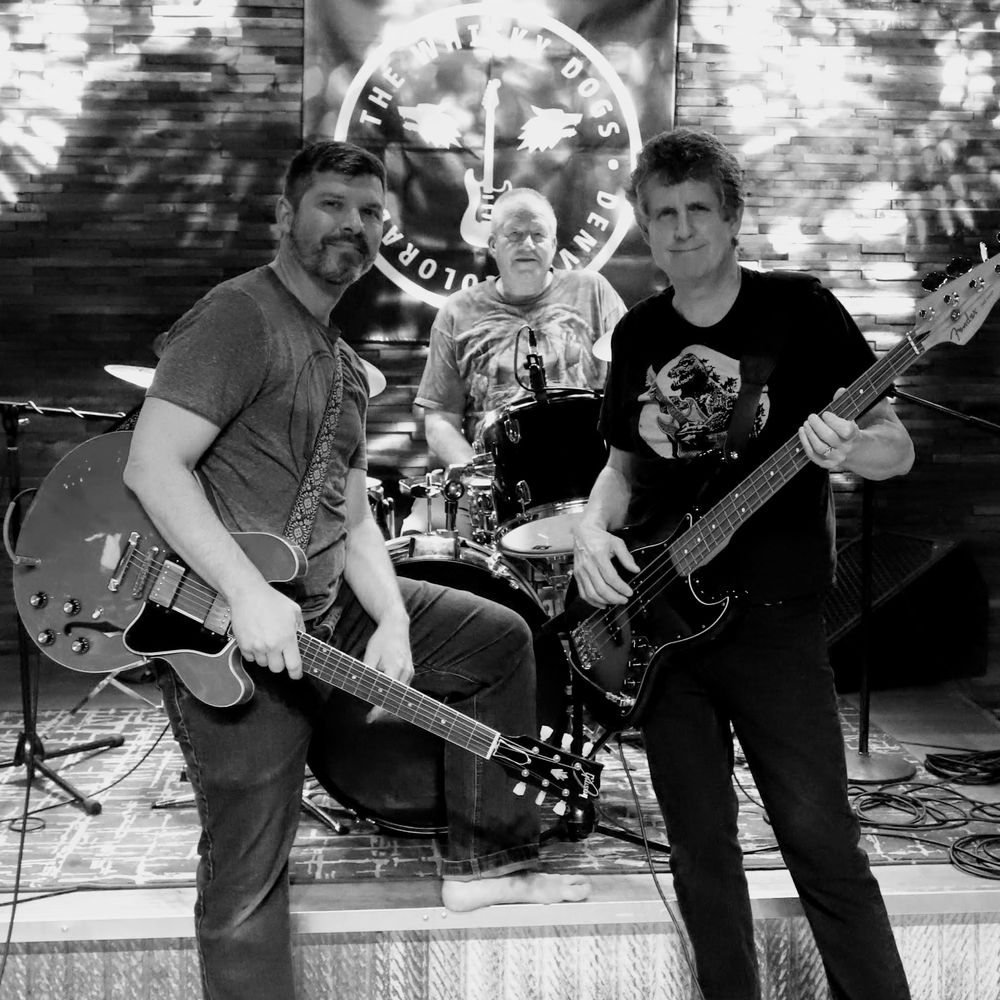 The Whisky Dogs
The Whisky Dogs are a Denver-based band delivering hard-hitting guitar-based blues and rock-n-roll. This four piece band delivers on their musical craft as well as their live performance. Drawing from the guitar tones of Hendrix, SRV, The Allman Brothers and Joe Walsh, you're sure to be in for a head-bobbing, foot tapping, fist pumping good time.
Brain Bucca - Guitar and Vocals
Looking way back through the catalogs of my childhood, music has always been there shaping who I am today in one way or another. I can still vividly remember me as a young kid growing up in Southern Mississippi on that bench seat of my dad's truck, unbuckled and wiggling around proudly singing the likes of Kenny Rogers, the Oak Ridge Boys and Neil Diamond at the top of my lungs without care. My parents, neither having much of a musical background, must have been wondering where all this musical enthusiasm was coming from. It seems that expression through music came to me very early whether I realized it or not. When I met the guitar at 14 years old, I was immediately enamored and learned that I possessed the ultimate tool to further that musical self-expression. I spent endless hours picking apart riffs from Slash, Kirk Hammett and Dave Mustaine in the early years, which eventually morphed to Jimmy Page, Jimi Hendrix, SRV, Buddy Guy as well as Dickey Betts. Somewhere along the way, I found my own style of expression which I describe as a southern-style, psychedelic gumbo.  
My relationship with music and the guitar has undeniably changed my life. Both have been a source of healing throughout times of confidence, through the agonies of confession and through everything in between. In light of how music has always been there for me, I can't express how lucky I feel to give it back to an audience and to pay it forward to whoever chooses to listen. 
Nick Stevens - Bass
Nick first started playing bass in high school in a band called The Voodoo Children. His influences include John Paul Jones, Geezer Butler, Geddy Lee, Les Claypool and Laura Lee. Nick sees the bass as the foundation of the song along with the drums. "As a bassist, my job is to help keep the train on the tracks. The bass and drums together are the canvas that allow Brian and Stephanie to bring out the vivid colors with their guitars and voices." 
Layne Corbin - Drums
Playing percussion has been a huge part of my life for 50+ years. I started playing in the 4th grade elementary school band. My parents found me drum lessons, my passion was born, and I've played ever since. My influences include Buddy Rich, Ginger Baker, Allman Brother's Band, and any great drummer of Rock or Jazz. I play music to make me feel young and inspired. I want people to feel inspired to play and learn music at any age and to have a good time. ROCK ON!!
Music
0:00/4:23

0:00/3:24

0:00/3:24

0:00/4:34

0:00/3:17
PR Images
Collection of Whisky Dog's images that can be freely used for promotional material.